Dublin Airport: More than 1,000 passengers missed flights after queues
Dublin Airport Authority (DAA) has said "over 1,000 passengers" missed their flights on Sunday after lengthy queues.
Ireland's minister for international transport is due to meet the airport's chief executive on Monday to discuss queues which caused hundreds of people to miss their flights on Sunday.
Hildegarde Naughton and Ireland's Minister for Transport Eamon Ryan have expressed their "deep unhappiness".
The DAA apologised and said customers would not be left "out of pocket".
On Monday, the DAA's Kevin Cullinane said it would ascertain "a final tally with all our airline partners and customers again this morning".
He told Irish broadcaster RTÉ the airport was operating on "very fine margins", and was "running to the max" of available staffing levels.
Mr Cullinane said there should be an extra 370 officers by the start of July.
It is understood about 1,000 airport workers have accepted voluntary redundancy since September 2020.
In April of this year, the Business Post reported that 248 security screening staff at the DAA, which also operates Cork Airport, had taken voluntary redundancy in the previous 18 months.
The DAA offered voluntary severance to its staff in 2020 as it dealt with the impact of coronavirus travel restrictions.
"Yesterday morning when we opened security in terminal one and terminal two, we clearly didn't have enough security lanes open due to resourcing challenges, and at the moment any absenteeism impacts on our ability to operate lanes," Mr Cullinane added.
He said the challenges the airport faced began at about 04:30 local time on Sunday and that eventually the system was overwhelmed.
The airport did not become aware of the scale of the problem until "people report for duty at 03:00 and 04:00", he added, and when this became apparent, the airport did its best to open "the optimum number of lanes".
He said there were not enough lanes open or staff available on Sunday.
'Let the nation down'
Mr Cullinane said all available staff would be deployed this week and over the bank holiday weekend, and every effort would be made to avoid a similar situation.
He said a business continuity team would meet on Monday to see if any changes should be made to the advice to passengers.
"We're conscious that we let ourselves and we let the nation down yesterday, and we certainly don't want to repeat of that on our watch this week," he added.
Mr Cullinane said anyone who was out of pocket as a result of Sunday's queues would be reimbursed as quickly as possible.
"Some of our airline partners are facilitating re-booking on the next available flights free of charge, no additional cost.
"In some instances there may be an additional cost because the airline fare is different but they won't be charged for making that change of booking.
"And in some instances people will have travel insurance that may provide some recompense also."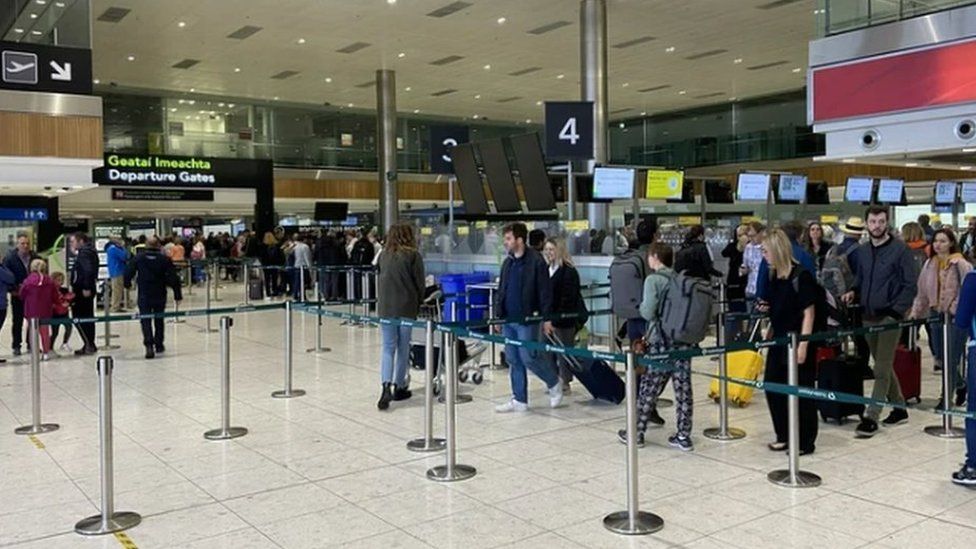 Earlier, Ms Naughton said she wanted "clarity" about the situation.
She added assurances were needed during her meeting with the airport's chief executive, Dalton Philips, on Monday.
On Sunday, Mr Cullinane said about 50,000 passengers had been expected to depart through the airport but there had been an insufficient number of security lanes open.
On Monday morning, extra security lanes opened early to facilitate the anticipated early arrival of passengers for flights, according to RTÉ.
It is believed airport police began diverting traffic from terminal one departures at about 05:30 as a queue outside was developing on the road at that point.
RTÉ said the queue had since dissipated, and people were moving briskly inside the terminal.
'Undue stress and potential cost'
Passenger Pauline Moore, from County Down, missed her flight to London on Sunday morning by two minutes after spending nearly three hours waiting in line.
She said the situation had been "total bedlam" and that she had witnessed "scuffles" as some people allegedly tried to skip the line.
Tim Neill, from County Armagh, said he "panicked" when he saw the queues.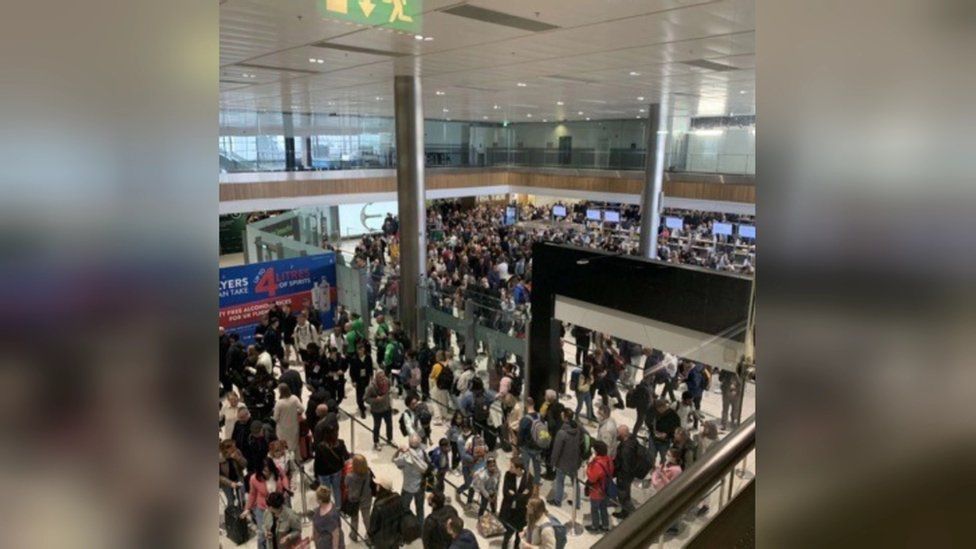 His missed flight meant not being able to see BBC Radio One's Big Weekend concert in Coventry.
"They weren't prioritising people to get flights. It was really a big mess, a bit of a shambles really," he explained.
Taoiseach (prime minister) Micheál Martin said the queues were "not satisfactory", but that Ireland's Defence Forces had "enough to be doing" when asked if they could help, RTÉ reported.
In their statement, Ireland's transport ministers said: "The situation is causing undue stress and potential cost to people, which is simply not good enough."